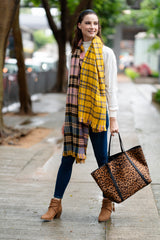 by Team Shiraleah
Luxe leopard print purses will take your look to the wild side this fall. Pair with a fluffy fall scarf and you're perfectly styled for every autu...
by Team Shiraleah
Good hair days are hard to come by, especially as the weather takes a turn. Instead of rushing to your nearest blowout bar, check out our top five ...
by Team Shiraleah
Are you looking to fight the cold weather without sacrificing your fashion sense? As the cold weather sets in, Shiraleah has this season's staples ...
Trending Now
Please select collection from store admin blog pages